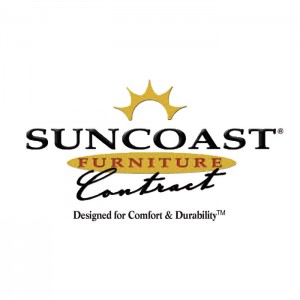 Suncoast's furniture is handcrafted in the U.S.A. combining the finest materials available, the latest manufacturing techniques and skilled craftsmanship. From drawing board to finished product, Suncoast's goal of comfort and durability are achieved.
When you experience the quality of Suncoast products, we think you'll see why Suncoast Furniture is designed for comfort and durablility. Every Suncost frame is prepared using our exclusive Platinum BondTM finish process consisting of two complete coatings of polyester powder. This finish will not rust or peel and is warranted for 5 years residential use. Platinum BondTM is three times thicker than paint and more durable. Suncoast uses two fiberglass springs attached to an aluminum mechanism to provide a smooth rocking motion. Aluminum doesn't rust. Additionally, Suncoast uses only stainless steel nuts and bolts where movement is desired, as in chaise lounges and gliders. Stainless steel will never rust or become wobbly like other soft metal fasteners.
Suncoast's wide range of colors and fabrics allow you to customize your furniture, to complement your home decor. See your nearest authorized Suncoast dealer to view our complete selection of frames and fabrics. Suncoast uses 11 straps on the high back chair – the most in the industry. The placement and increased number of straps provide unsurpassed comfort. Suncoast uses 2 inch wide x 1/8 inch thick, 100% virgin vinyl straps with added ultraviolet stabilizers and mildew inhibitors. This means longer lasting colors and greater mildew resistance.
Criterion provides repair on all types of Suncoast outdoor patio furniture collections:
Devereaux
Maya
Orleans
Pinnacle
Rendezvous
Rosetta
San Macro
Sanibel
Santa Rosa
Seascape
Soleil
South Beach
Vectra
Vision