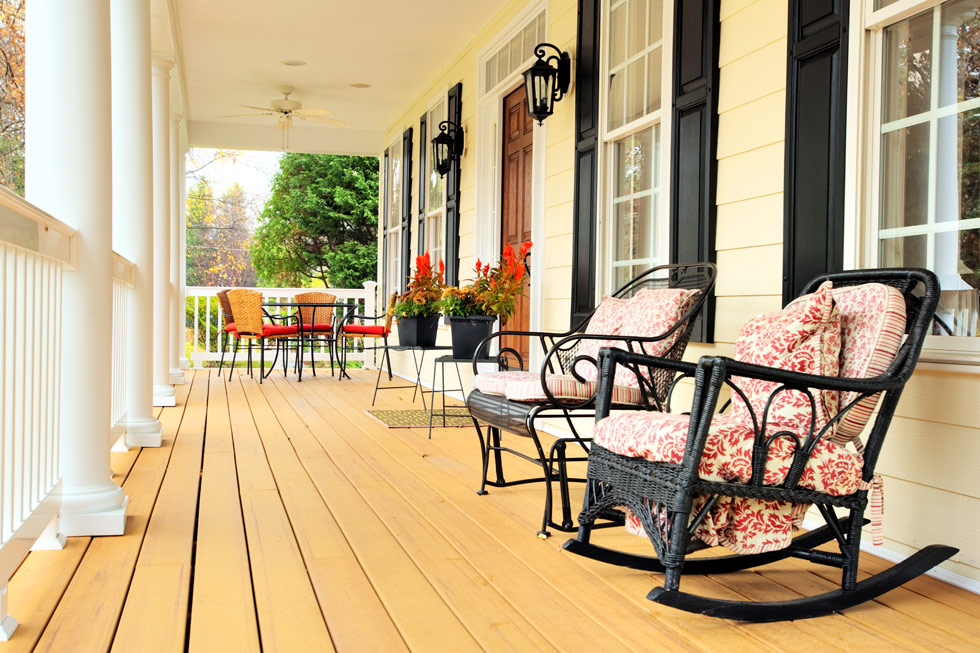 Spring is officially here and we all know that means bringing our outdoor living spaces back to life for summer. There may be more to preparing your outdoor furniture than cleaning and arrangement. Use these helpful tips to make sure your season goes off without a hitch.
As you begin to clean your furniture we encourage you to check your frames for any damaged, cracked missing glides. These tiny little parts play a big role in protecting your deck from damage and keeping your guests balanced. By turning your furniture upside down on a blanket and inspecting these parts thoroughly you'll be saving your deck from unnecessary damage and your frame from preventable wear.
Glides come in a variety of sizes and styles. If you find that you need replacements the best way to get the correct parts is to send one to Criterion. We can match the style and size or find an appropriate replacement.
Your swivel rocking chair is another area of concern, specifically the swivel rocker mechanism, it may have been functional as you stored it last year but always check them before use. Sometimes the spring mechanisms wear out or rocker plates need replaced. You'll want to check them out before your guests arrive and feel as if they are falling backward or out of the chair.
Always sit in your swivel chairs and make sure they function before their first use of the Season. This is a simple inexpensive solution to save your guests and yourself from a frightfully embarrassing experience or worse yet, injury.
Next you will want to take a good look at the metal frame structure itself. Depending on the severity of the winter, your frames may have experienced freeze damage. The frame tube can load with moisture from snow and rain and split your frame like a frozen water pipe. Are there any bends or breaks that need repaired? Have you inspected your furniture and found only one chair needs repaired? Don't throw out one piece; keep your set consistent with our specialty welding service. Criterion offers welding repair services at very little cost to you. A professional frame repair by our trained technicians will protect you and your guests from injury.
This is also the time to look at the existing finish and check for peeling or flaking paint. If the frames look pretty good you may want to use them this season. Take advantage of our Off Season Savings Window during the fall to have the furniture refinished when it will not be in use. If the frames are truly in need of service sooner than later give us a call early in the Season to ensure you get your order picked up and delivered back before the first summer holiday.
Seating materials like vinyl strapping or lacing should be inspected carefully for broken or missing straps. Sometimes straps pop off as the plastic pins that hold them break or become dislodged while moving them around for storage.
If your furniture is getting up there in years you should pay close attention to the strap condition. The straps may have become discolored, brittle or show signs of cracking or tearing. They may need to be replaced. Straps in this condition are not only unsightly, they are unsafe. For your safety and (liability) call Criterion for a price to repair. Be aware your new straps may not respond in the same manner that you are accustomed to.
When vinyl is newly extruded it is soft, supple and possesses considerable resiliency (memory). Older vinyl becomes stiff, particularly if it is continuously exposed to the elements. On a newly strapped chair the vinyl should give with weight placed on it and conform to the shape of the weight. Upon removing the weight the vinyl should return to a straight position. Over time UV Sunrays, cleaning and use will reduce the amount of plasticizer leaving the strap with less memory. Meaning it will not spring back as quickly when the weight is removed from the chair.
If your frames employ a sling fabric seating material, you will want to check not only the health of the fabric but also the condition of the threads that hold the fabric seams together. No matter what age your slings are they could be showing early signs of fatigue, tearing or splitting near the seams. Some common areas to check the fabric would be the seams running alongside the sling track and the middle of the seats. Check your slings thoroughly for any signs of the fabric pulling apart. If your fabric has become hard and inflexible it may be time to have new slings made. Similar to vinyl straps the healthy sling fabric will become brittle and lose resiliency. A brittle sling is more apt to suddenly break through instead of tearing slowly. If your sling fabric has become hard and unforgiving you will want to get them replaced before any injuries from fabric damage occur.
Another major concern with respect to sling fabric is thread dry rot. The sling can appear in good condition however if the threads that hold it together are dry rotting it is only a matter of time before the sling will fall through the frame. Although this problem isn't obvious to the naked eye there is a simple way to test for thread dry rot, which any homeowner can perform. Simply run your fingers along the seam on the underside and gently try to pull the seam apart. If the seam comes apart there is clear indication of dry rot and your slings are no longer safe for use. Usually re-sewing these is not an option, replacements are recommended. Keep in mind you probably purchased your furniture as a set so if one sling fails the rest are sure to follow. We recommend replacing them all at the same time so you have matching fabric and they wear at the same rate. All too often we replace 1 or 2 pieces and the following season a customer calls needing a few more pieces remade and their fabric has been discontinued. Outdoor fabrics are like clothing, get them all at once while they are in style or next season they may not be available.