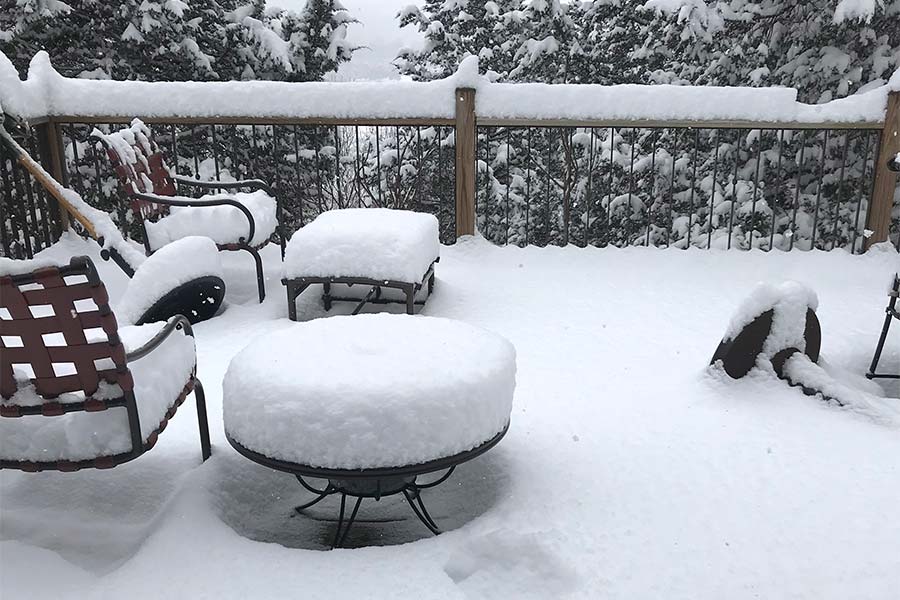 Proper maintenance is essential when it comes to keeping your patio furniture in good condition.
Performing these tasks as winter approaches is a smart way to add an extra layer of protection before putting your furniture away for the season.
Step 1: Clean
Dirt and moisture that sits on your furniture surfaces for several months can eat away at the finishes and lead to rust or mildew. Taking the time to deep clean your patio furnishings can help prevent these potential issues during the winter months. Use the proper cleaning agents for your pieces and follow manufacturer directions when cleaning your outdoor furniture. Also be sure to check for missing end caps, glides, and other pieces that will not allow water or moisture to enter the frame of your furniture.
Step 2: Care
Next, you'll want to apply a layer or two of sealant, like Turtle Wax Brand Car Wax, to give your outdoor furnishings a protective winter coat. Oils and waxes seal your furniture finishes, so this step is essential for those who experience cold temperatures, frost, heavy rain and snow in the wintertime.
Step 3: Cover
Lastly, it's important to use patio furniture covers to shield your outdoor seating and dining arrangements from the weather. Although many people drape tarp over their furniture, fitted covers with tough fabrics and ties can usually hold up better against strong winds and damp weather. Do not cover Wrought Iron or Steel furniture as covering this type of furniture, if any moisture gets trapped underneath a cover, will speed up the rusting process.
Once you've finished prepping your patio furniture for the winter, it's time to stow it away until you're ready to use it again in the spring or summer. Outdoor storage might be fine for some furnishings, provided you keep them covered for the duration of the season. However, you may need to bring other items inside to protect them from the elements.
Even though preparing a patio for the winter can seem like a huge, daunting task, these tips make an excellent guide for tackling this important project. Try to start the process around late autumn to ensure you have everything done by the time winter arrives.
For further questions, you snow the drill. Call us and ask! (304) 788-3190 or your representative for commercial or residential questions on our contact page!